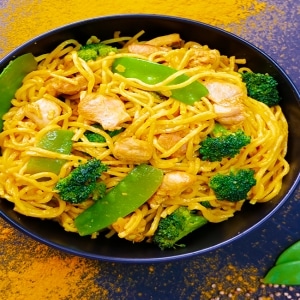 This fried noodle dish is full of genuine curry flavor. Chock full of tempting chicken and veggies, this zippy meal puts a uniquely Guyanese spin on the classic Asian dish.
If you like Asian and Caribbean food, this option is perfect for you. Guyanese Chow Mein is a fusion of Chinese and Indian food with a unique Guyanese flavor. Below, we'll answer your questions about this deliciousness and share a recipe that shouldn't be missed.
What is Guyanese Chow Mein?
Guyanese Chow Mein is a chow mein style dish with a Caribbean flavor. You can make this dish with vegetables only, with chicken or seafood, or by mixing them all together. Adding a touch of curry flavor makes Guyanese Chow Mein a perfect food for special occasions.
What is chow mein sauce made from?
The base for this recipe is the chow main sauce, which is made from sesame oil, ginger, and soy sauce. If you like, you can add some onion and toasted sesame seeds.
How many calories does Guyanese Chow Mein have?
Lam's chow mein noodles only have 200 calories per serving size (55g)*, approximately. Guyanese Chow Mein could have from 250 to 350 calories per serving, it all depends on how you prepare it and how many ingredients you add to the recipe. It has from 20% to 30% of protein and you can eat it for lunch or dinner.
*Approximate values. Based on an RDI of 2000 calories
Guyanese Chow Mein recipe
Guyanese Chow Mein only needs a few ingredients, and they are:
Ingredients
11/2

lbs

Boneless Chicken Thighs

1

tbsp

Indi Chicken Seasoning

1

tbsp

Salt

1

pack

Lam's Noodles: Cook according to package directions (Drain and set aside)

4

tbs

Vegetable Oil

6

Gloves

Garlic: Finely chopped

2

tbsp

Indi Madras Curry Powder

1

Seasoned Chicken Cubes

1/4

cup

Chicken Stock: Cover and let steam for 2 mins

1

head

Broccoli Chopped

1/2

lb

Snow Peas Trimmed: Cover and let steam for 2 mins

2

tbsp

Soy Sauce
Instructions
Method
In a large bowl, add Indi Chicken Seasoning to cubed chicken and set aside. Bring a pot of water to boil and season with 1 tbsp of salt before adding noodles. Lam's Noodles should be cooked for 5-6 minutes. Drain and set aside.

Heat 4 tbsp of oil in a wok over medium heat. Add chopped onions and cook until softened, followed by chopped garlic. Add Indi Curry Powder and stir continuously until fragrant, about 1 minute. Add the seasoned chicken cubes to the pan and cook until opaque.

Add chopped broccoli and snow peas followed by chicken stock. Cover and let steam for 2 minutes. Remove the cover and add the cooked noodles to the pan followed by soy sauce. Stir until fully combined. Salt and pepper to taste. Enjoy!
admin
Freedom Cocktail A real tropical treat that will make [...]
admin
Cheerful Cranberry Cocktail Recipe A wonderful holiday cocktail to [...]
Hans C
Ackee, Jamaica's national fruit, has a delicate flavor and a look similar to scrambled eggs. Ackee and salted fish (bacalao) makes the perfect breakfast meal. Serve with roasted breadfruit or dumplings.